Skip to Content
Benefits of Reserving a Meeting Room with Talty Court Reporters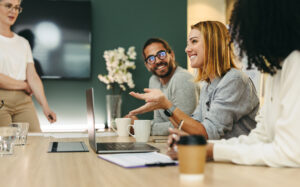 Is your legal firm or other business looking for a place to hold a meeting, event, or deposition? You could add the space you require to your existing office, but this may be expensive and impractical. Save time and money by reserving a meeting room with Talty Court Reporters. We are located in San Jose, CA, and provide access to meeting rooms Monday thru Friday from 8:30 am to 5:00 pm. Consider the many benefits of renting a conference room with us.
Affordability: The bottom line is always top of mind for savvy business owners. If you don't need access to a meeting room every day, renting a space is an excellent way to save money. Our rental terms are affordable, and you only pay for the time you need.
Flexibility: Rent a meeting room by the hour, reserve it for the day, or pay for an entire week during a hectic case to ensure you always have access to a private meeting space when you need it.
Fully equipped rooms: High-speed Internet, dependable Wi-Fi access, video projection equipment, conference phones, whiteboards—these are just a few of the features you can expect from a meeting room at Talty Court Reporters.
Welcoming atmosphere: When exploring your conference room rental options, choose one that makes you and your guests feel comfortable and welcome. At Talty Court Reporters, you can expect free on-site parking upon arrival. Our friendly reception staff will greet you when you walk through the door and show you to your rented room. There, you'll find a self-service refreshment bar and catered lunch menu options upon request.
Privacy: Holding depositions or other meetings in a noisy environment can be difficult. Luckily, you can close your meeting room door and shut out the rest of the world. This gives you the privacy you need to collect sworn witness testimony without anyone eavesdropping.
Professionalism: Selecting an appropriate location to hold a deposition or other important legal meeting is vital. Choosing Talty Court Reporters to facilitate your needs ensures you leave a favorable impression on your clients. From our personable staff and stylish furnishings to the high-tech equipment available in each room, everything about our location creates the professional atmosphere you're hoping for.
Availability: We offer numerous conference rooms ranging in size and scope to meet your needs. For a simple in-person deposition, a small room may do. But for a corporate meeting or event, you may want something large and well-stocked. Call us today to inquire about our availability and reserve your space.
In short, Talty Court Reporters utilizes the latest technology to deliver the very best results in your legal case. When your firm's office space can't accommodate your needs, turn to us for conveniently located, state-of-the-art meeting room rentals in San Jose. We also offer top-quality court reporting and transcribing services, video and audio conferencing, remote depositions, and much more. For additional information about our services or to request a cost estimate, please contact us today.
Whenever and Wherever You Need Us, We're There.