Skip to Content
How to Improve Your Trial Preparations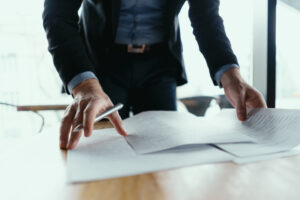 Every attorney has their own way of preparing for trial. The ultimate goal is to produce strong arguments that convince the judge to rule in your favor. If you're new to the industry, follow these valuable tips as the trial date draws near to improve your trial preparation approach.
Maintain open communication: Attorneys, clients, paralegals, court reporters, and other litigation team members need to communicate effectively to win the case. Make sure everyone is aware of their roles and responsibilities to help avoid miscommunications that could cause irreparable damage at trial.
Learn who's presiding over the case: Judges are legally bound to follow certain rules when handling a court case. However, the proceedings may go differently depending on whether the judge is strict and inflexible or more easy-going. Study the judge's habits and thought processes from previous cases to help you prepare for the trial the right way.
Visit the courtroom: A pretrial courtroom visit helps you get familiar with the setting so you know what to expect when the big day arrives. This is also your opportunity to learn what technologies are available. After all, some courtrooms have the latest advancements in court reporting and video presentations, while others are more old-fashioned.
Prepare your witnesses: Trials can be stressful, enough to make the most confident witnesses wilt under pressure. Working with individuals beforehand ensures they can present their statements effectively in court.
Plan to maintain a calm demeanor: As an attorney, it's important to stay cool and composed, even when a major setback is presented in the courtroom. This helps your client have more confidence in you and may, in turn, dent the confidence of the opposing counsel.
Hold a mock trial: If you have not had a lot of experience remaining calm during stressful legal proceedings, you may benefit from having a mock trial with your team members. This allows you to practice various scenarios in a formal, courtroom-like setting before the actual trial takes place.
Be prepared to watch and listen: Another thing to practice during a mock trial is watching and listening to the judge's and jurors' facial expressions and body language. Then, listen to the judge's questions and comments to gauge what's most important to them and what they really want to hear from you.
Utilize technology in your trial preparations: The tools available to attorneys these days can drastically reduce your preparation time and expense. For instance, remote depositions let you depose witnesses from anywhere, which is incredibly useful when people involved in the case live a great distance apart. Then, other tools like digital depositories help streamline your case management system.
At Talty Court Reporters, we utilize the latest technology to deliver the very best results in your legal case. Turn to us for top-quality court reporting and transcribing services, video and audio conferencing, and remote depositions in San Jose, CA. For additional information about our services or to request a cost estimate, please contact us today.
Whenever and Wherever You Need Us, We're There.