Skip to Content
4 Things That Can Negatively Impact Your Virtual Deposition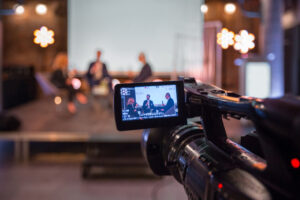 The option to depose a witness virtually is incredibly convenient and cost-effective. However, even if you're a seasoned deposition taker, the virtual nature of this technology throws a whole new set of challenges into the mix. Here's a look at what can go wrong during a remote deposition and tips to avoid the most common pitfalls.
Spotty Internet
A poor internet connection makes it difficult for the witness and legal counsel to understand one another. Constant buffering also impedes the court reporter's ability to ensure a clean, accurate legal record. Here are some ideas to increase the reliability of every participant's internet connection during a virtual deposition:
Connect directly to the router via an Ethernet cable, not Wi-Fi.
Run a speed test to check for a minimum bandwidth of 1.5Mbps at 720p video or higher.
Do a trial run at least 24 hours before the scheduled deposition to problem-solve connectivity issues.
In the case of unavoidably spotty internet, have the witness join the call from their phone.
Distracting Video & Audio
A shaky phone camera or laptop sitting at a bad angle is unprofessional. Then, a distracting background could negatively impact the witness's credibility. Echoing audio can also be annoying. Here's how to address these problems:
Make sure the witness has a flat, stable surface to set up their computer and webcam.
Assess the witness's background before the deposition begins and recommend changes, if necessary.
Ensure there's no more than one audio input source per participant per room.
Logistical Complications
Confusion over who is hosting the deposition and lack of familiarity with the teleconferencing software can lead to hiccups. Follow these tips to minimize logistical complications:
Decide which party will host the call well in advance.
Make sure whoever serves as the host has experience doing so in the past.
Utilize tools such as screen sharing to showcase exhibits discussed during the deposition. Practice using this tool in advance to ensure a professional presentation.
Greater Difficulty Judging Credibility
An important part of most depositions is assessing the deponent's credibility as a witness. Doing so in a virtual setting is one of the biggest challenges of remote depositions. Fortunately, you have many options to help overcome this pitfall:
Ensure that everyone has their own webcam for the best viewing angle.
Memorize your questions beforehand to free up your attention to observe the witness's reactions and responses more closely.
Capture and save the deposition so you can review it later. Even with a court reporter creating the official record, it's beneficial to look back on the video for facial expressions, body language, and other non-verbal cues.
At Talty Court Reporters, we utilize the latest technology to deliver the very best results in your legal case. Turn to us for top-quality video and audio conferencing, remote depositions, court reporting, and transcribing services in San Jose, CA. For additional information about our services or to request a cost estimate, please contact us today.
Whenever and Wherever You Need Us, We're There.