Skip to Content
Information About Our Transcription Services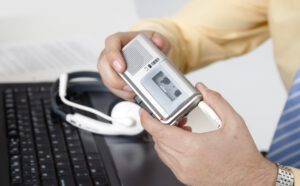 If you need the spoken word converted into a written record, you could benefit from professional transcription services. Talty Court Reporters is pleased to offer this service to legal firms and businesses throughout the San Jose area. Learn more about transcriptions and the services we offer here.
When are Legal Transcriptions Needed?
The business uses for transcriptions vary widely. Whether you have an existing audio or video file, or there's an upcoming live event that you want to document in writing, you need transcription services to get the job done.
In the legal field alone, transcriptions encompass many different recordings and videos, including depositions, hearings, trials, briefs, interviews, meetings, and attorney dictations. No matter the medium you're working with, Talty Court Reporters can take it from rough draft to completion within the timeframe you require.
How Do Transcription Services Work?
Transcribing is a skill that requires a high degree of focus and attention to detail. Commonly, a transcriber converts video or audio files into written text. Real-time transcriptions can also be created if a knowledgeable stenographer attends an event and transcribes it as it happens.
Just be aware that not all transcription services are the same. Automated transcription software struggles to achieve 80 percent accuracy in best-case scenarios. On the other hand, human-based services consistently hit accuracy rates above 99 percent, even when dealing with poor audio quality, multiple speakers, and complex terminology.
What About Certificates of Accuracy?
Even privately produced transcripts from outsourced companies can't match those from Talty Court Reporters. We specialize in legal transcription services, and we are trained and certified by the State CSR Board to ensure the final product is compliant with all legal guidelines. We are more than happy to certify and notarize the transcriptions we produce, ensuring the accuracy and integrity of their contents to the best of our professional knowledge.
What are the File Format Options?
Rest assured that the team at Talty Court Reporters can work with any audio or video file type you have. Then, we produce final transcripts in whatever file type works best for you, including YesLaw, E-Transcript™, LEF, PDF, ASCII CD/DVD/DISK, and Summation/AMICUS.
What Other Services are Included?
A final transcript is at the core of any legal transcribing service, but you may need more than this for your records. When you choose Talty Court Reporters to meet your needs, your request also includes the following:
A condensed transcript with word indices, free of charge
Paperless and electronic transcripts, available upon request
The transcription and scanned exhibits in various file formats on a CD
Rough drafts, available upon request
Expedited service, available for an additional fee
At Talty Court Reporters, we utilize the latest technology to deliver the very best results in your legal case. Turn to us for top-quality transcriptions and related services, including court reporting, remote depositions, video and audio conferencing, and much more. For additional information about our services, or to request a cost estimate, please contact us today.
""
Whenever and Wherever You Need Us, We're There.