Skip to Content
How to Handle Legal Depositions During the COVID-19 Pandemic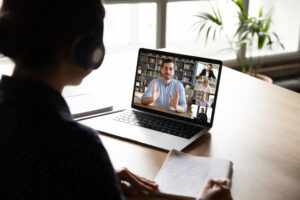 Legal depositions are among the most important elements of the discovery phase. But when a pandemic prevents people from traveling and meeting together, how do you keep your case moving forward? The key is to collect vital witness testimonies via remote depositions.
Many court reporting agencies already offered this service before the COVID-19 crisis struck. Still, it has taken on new significance at a time when travel is restricted and social distancing is the norm. If this is your first time conducting a fully remote deposition, follow these tips to make the process as seamless as possible.
Consider Your Options
Remote depositions tap into different types of technology to allow attorneys to gather witness statements from afar. These include:
Telephone depositions: The simplest way to conduct a remote deposition is over the phone. However, there is no video aspect, which could make this option less ideal.
Real-time video depositions: These are held online via a secure internet connection. Every participant needs a web camera and high-speed internet. A telephone backup acts as a layer of redundancy if the connection is disrupted.
Video-recorded remote depositions: Adding video recording capabilities makes it possible to present remote depositions in court if the witnesses can't appear in person.
Follow Special Procedures and Practices
No matter which remote method you choose, you may need to submit an updated notice of deposition that includes specific language about the recording method you plan to use. A stipulation or court order may also be necessary to take the deposition remotely, though the current pandemic has made all parties more willing to agree to this option.
With these legal requirements out of the way, it could be worthwhile to discuss the possible hiccups of remote depositions with the witnesses and your fellow attorneys.
For instance, even with video, it's easy to accidentally interrupt or talk over one another during a remote deposition because of the audio lag and less visible body language cues. Interruptions make the court reporter's job more difficult and can muddy the record.
Thoughtful planning and polite social behavior can help mitigate this problem. For instance, it may be useful to have each speaker identify themselves before speaking. Also, ask for a pause between speakers so other participants have a chance to respond.
Clear verbal statements are important to help the witnesses navigate exhibits and demonstratives over videoconferencing. For instance, if the attorney begins reading from a book, they must indicate the particular page, paragraph, and line they are reading from.
Finally, the remote technology you use should allow the questioning side to monitor the witness and their attorney. This may be crucial to prevent inappropriate coaching.
At Talty Court Reporters, we utilize the latest technology to deliver the very best results in your legal case. Turn to us for top-quality remote depositions and related services, including court reporting, transcribing, video and audio conferencing, and much more. For additional information about our services, or to request a cost estimate, please contact us today.
""
Whenever and Wherever You Need Us, We're There.