Skip to Content
Tips on How to Get the Most Out of Virtual Meetings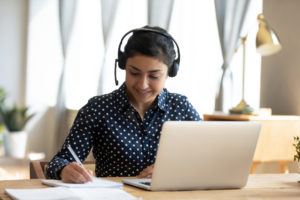 Like many businesses these days, your company may have transferred a majority of your employees to remote positions. As a result, most, if not all, of your meetings are now being conducted online. Follow these helpful tips to adjust your presentation style so the meeting is more productive and easier to transcribe when the time comes.
Prepare an agenda in advance: When participants go into a meeting not knowing what to expect, it's bound to be less efficient. Write up a schedule and share it among the participants ahead of time, giving them a chance to prepare questions and fully contribute to the meeting.
Work from a quiet room: Everyone in the meeting is probably working from home, which means your colleagues may be juggling work and childcare responsibilities. To minimize interruptions, retreat to a private room where you can lock the door.
Choose a neutral background: Set up your desk so your back is to the wall. This eliminates distractions, helping listeners focus on what you're saying rather than what's happening behind you.
Set up good lighting: Tweak the natural and artificial light in the room so your face is well-lit. This creates a professional presentation and helps the webcam focus on you better.
Use a computer, not a tablet or phone: A shaky mobile device is not the appropriate tool for a conference call or board meeting. Set your laptop on a table or make the call from your desktop computer to ensure a stable image and access to a keyboard where you can easily take notes.
Dress the part: Your attire can affect your delivery during a presentation. Therefore, resist the urge to wear pajama bottoms to a conference call, and instead dress as if you were meeting the participants in person.
Do a test run: Set everything up several minutes before the meeting is scheduled to begin. Launch the web conferencing program, adjust the webcam, test the microphone, and practice looking at the camera when you speak, not at the video images.
Maintain proper meeting etiquette: Give your full attention to the meeting by muting your notifications and closing extraneous apps. Avoid multitasking as well, since even the most avid multitasker can't answer emails or browse Instagram while fully participating in the discussion.
Record the call for future transcribing: One problem with video conferencing is that it becomes easy for participants to forget or misunderstand what decisions were made during the meeting. Call recording software solves this problem, especially if you take it one step further and have the recording transcribed. You can then distribute transcriptions to each participant for future reference.
At Talty Court Reporters, we utilize the latest technology to deliver the very best results for your company. Turn to us for top-quality transcribing services, video and audio conferencing, remote depositions, and much more. For additional information about our services, or to request a cost estimate, please contact us today.
""
Whenever and Wherever You Need Us, We're There.