Skip to Content
Renting a Conference Room for Depositions in San Jose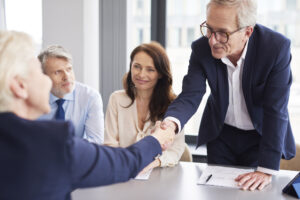 Taking legal depositions is a sensitive matter requiring the right environment to ensure a smooth process. The best option might be to rent a conference room for optimal comfort, privacy, and access to technology at an affordable rate. Here are the top tips for finding the right conference room in San Jose, CA.
How to Find a Conference Room for Rent
Utilize one of these resources to help you find the right place to hold your next deposition:
Call a local courthouse. Some courthouses have extra office space you can reserve. Call ahead to see if this is an option in your area.
Check with your vendors. Your legal firm likely partners with local insurance companies or accounting agencies. These vendors may be able to provide a conference room you can use. Even if they don't have space at their facility, they may have contacts they can recommend.
Borrow another law firm's conference room. If you ever refer clients to other local law firms, ask these companies if you can borrow a conference room for a day. They should be accommodating, as long as the room isn't already reserved.
Reserve a room through your court reporting agency. This is the most surefire option available. When you schedule a deposition, simply tell the agency you're interested in renting a conference room as well.
Things to Consider
Here are four features to look for when deciding which conference room to rent:
Location: A conveniently located conference room is vital to ensure accessibility for all parties attending the deposition. Locations in major metropolitan areas are best, especially if participants are flying in from out of state.
Room size: When you reserve a conference room, be sure to specify the number of people in attendance. This ensures you don't arrive with eight people only to discover the room you've rented can accommodate half that number.
Reporting services available: If you are scheduling deposition services along with renting a conference room, make sure the services you hope to utilize are provided. These may include a legal videographer, video streaming, rush transcripts, online access to case documents, and more. With all of these services available in one place, you'll save time and money preparing for and conducting your deposition.
Type of conference room furniture: The way the room is arranged can be just as important as the services available. Find out what furniture is provided, including table size and shape, seating, and whether there's room for video equipment. Lighting and acoustics are also important if you're videotaping your deposition.
At Talty Court Reporters, we utilize the latest technology to deliver the very best results. Turn to us for conference room rentals featuring high-speed Wi-Fi Internet, free on-site parking, and catering options. We also offer top-quality court reporting and transcribing services, video and audio conferencing, remote depositions, and much more. For additional information about our services, or to request a cost estimate, please contact us today.
""
Whenever and Wherever You Need Us, We're There.