Skip to Content
The Importance of Real-Time Reporting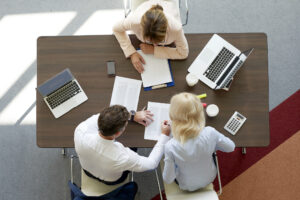 Even in our rapidly changing world, traditional court reporting remains an invaluable tool for attorneys, paralegals, and legal secretaries. Of course, court reporters use their fair share of advancements to ensure more accurate translation and faster transcription times. One example is real-time reporting, which is often preferred over recording the audio and transcribing the text later. Let's explore this modern court reporting approach and its far-reaching benefits.
What is Real-Time Court Reporting?
Real-time court reporting involves the instantaneous translation of spoken words into a court reporter's shorthand and then into written text. Specialized stenography machines paired with computer-aided translation provide a live feed of every spoken word, which appears on monitors for everyone in the courtroom to see. Even those watching remotely can see the text as closed-captioning at the bottom of the screen.
When Real-Time Reporting Shines
Consider some situations where real-time reporting might be preferred over recording and transcribing:
Remote depositions: With real-time reporting, participants can follow along with the deposition from anywhere, enabling full participation without the need to be physically present.
Video depositions: In video depositions, real-time reporting provides instant text feeds, allowing for immediate review and reference.
Trials: Real-time reporting allows legal professionals to monitor the proceedings closely, making timely objections or identifying crucial inconsistencies.
Arbitrations and mediations: These dispute resolution methods benefit from the immediacy of real-time reporting, making the process more transparent and efficient.
The Benefits of Real-Time Reporting
The advantages of real-time reporting extend well beyond the courtrooms of San Jose, CA. Here's a closer look at some of the essential benefits:
Quick access to verbal testimony: Because real-time reporting immediately converts spoken words into text, attorneys and legal staff can access crucial oral testimony without delay, facilitating faster responses and better decision-making.
Maximum precision: This method ensures every spoken word is captured accurately, providing an exact record of the proceedings and enhancing the integrity and reliability of associated legal documents.
Private note-taking: Real-time reporting allows attorneys and paralegals to make notes directly within the transcript, personalizing the record for future reference or strategy planning.
Accessibility for the hard of hearing: Providing instantaneous written transcripts on monitors ensures everyone in the courtroom can follow the proceedings, irrespective of their hearing abilities.
Correcting misstatements: If a witness or attorney misspeaks, real-time reporting allows immediate detection and correction of errors, ensuring a more accurate legal record.
Cost-effectiveness: While a higher upfront cost applies, real-time reporting is more economical overall because it simplifies the transcript production process and reduces or eliminates expedited delivery fees.
Synchronization with litigation software: Real-time reporting seamlessly integrates with litigation software, enhancing collaboration and making it easier to manage, search, and organize large volumes of legal data.
At Talty Court Reporters, we utilize the latest technology to deliver the very best results in your legal case. Turn to us for real-time court reporting and transcribing services, video and audio conferencing, remote depositions, and much more. For additional information about our services or to request a cost estimate, please contact us today.
Whenever and Wherever You Need Us, We're There.