Skip to Content
Frequently Asked Questions about Notary Services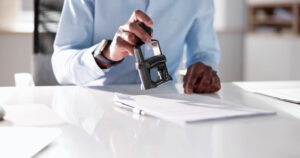 Unless you have experience as a notary public, notary services can be a confusing topic. Whether you're buying a house, setting up a business, or dealing with court documents, you can expect notary services to come into play. Learn the answers to some of the most frequently asked questions about notary services specific to California.
What is a Notary Public?
A notary public is a state-appointed official who serves as an impartial witness when performing various legal functions such as signing documents, administering oaths, and deterring fraud. Notaries must follow state laws and are often essential in legal proceedings.
What Types of Documents Require Notarization in California?
Some documents can be signed before any witness, but many official transactions require the presence of a notary. Examples include:
Legal agreements, such as contracts, wills, and powers of attorney
Real estate documents like deeds, mortgages, and leases
Court documents, including sworn statements, depositions, and affidavits
How Do I Find a Notary in California?
Finding a notary is usually straightforward. Many banks, law offices, and court reporting companies offer notary services. In San Jose, CA, you can find various local businesses that provide these services. Be sure to choose a notary with experience, especially in the type of document you need to be notarized, to make the process smoother and more efficient.
Can Notaries Provide Legal Advice?
It's important to understand that notaries are prohibited from providing legal advice or acting as legal representatives. Their job is to authenticate signatures and ensure proper legal procedures, but they cannot interpret or draft legal documents nor advise whether you should sign a particular agreement.
What Identification is Required for Notarization?
A valid, government-issued ID is generally required for notarization in California. Examples include a driver's license, state ID card, or passport. The identification must be current and contain a photograph, physical description, and signature.
What are Remote Online Notarizations (RON)?
Remote online notarizations are becoming more prevalent, especially in the current technology-driven landscape. These notarizations are performed via secure video conferencing, and California has specific guidelines and regulations regarding RON.
How Much Do Notary Services Cost in California?
Costs for notary services depend on the type of document and location. State law generally establishes these fees, which may range from $10 to $15 or more. Be aware that additional charges may apply for travel or specialized services.
Can a Document Be Notarized for Someone Not Present?
Notaries are not permitted to notarize a document without the document signer being physically present, the exception being remote notarization using audio-video technology. For every other type of notarization, state law requires that the signer appear in the physical presence of the notary.
At Talty Court Reporters, we provide notary services in San Jose to help you achieve the very best results in your legal case. Turn to us for other top-quality services as well, including court reporting and transcribing, video and audio conferencing, remote depositions, and much more. For additional information about our services, or to request a cost estimate, please contact us today.
Whenever and Wherever You Need Us, We're There.