Skip to Content
What Technology Does a Court Reporter Use?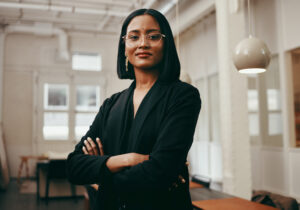 The modern era of court reporting dates back to the early 1800s, when reporters used quills and inkwells to document court proceedings in shorthand. Later that century, the first stenography machines were invented, making for a more efficient and accurate record than handwritten copy. By the 1940s, stenography machines changed the very definition of the word "shorthand" to include typed abbreviations.
Court reporting continues to evolve to this day. In fact, new and improved technologies are introduced regularly to continually improve the speed and accuracy of transcribing the spoken word into written text. Here's a look at the most advanced technology used in modern court reporting.
Stenography Machines with Connected Laptops
Stenography machines—also called stenographer typewriters, stenographs, or steno machines—are essentially portable word processors. They feature a modified keyboard with 22 buttons that a court reporter uses to take shorthand. This is much faster than typing out entire words and makes it possible to transcribe speech in real-time.
In the past, steno machines would print shorthand onto a narrow roll of paper, which the court reporter then translated into an English transcript at a later time. Today, the translation from shorthand to English is instantaneous. It occurs digitally, appearing on the stenograph's built-in LCD display. Modern stenography machines also make it possible to provide unofficial digital transcripts to attorneys and judges by the end of the day.
Audio Recording Equipment
Court reporters often use sophisticated audio recording systems to capture speech from depositions and trials, when permitted. However, court reporters don't sit passively while the equipment does all the work—rather, they actively annotate the audio recording with shorthand notes that can be read back upon request. Official transcripts are then created later.
"Stenomask" technology is another form of audio recording equipment court reporters use. This is when the court reporter repeats every word they hear into a microphone held close to their mouth. They wear a mask over the microphone to silence their voice and avoid disrupting the court proceedings. Stenomasking is cheaper than other audio recording methods, but the results may be of lower quality.
Computer-Aided Transcription
Computer-Aided Transcription provides a real-time feed of the words spoken in a courtroom, with text displayed on monitors visible to spectators and the judge. CAT may rely on multiple technologies to achieve real-time transcriptions, including shorthand translation software attached to a steno machine or voice-recognition software tied to audio recording equipment. Computer-Aided Transcription also makes it possible to deliver an unofficial electronic transcript by the end of the day and speeds up the turnaround time for the official transcript.
Clearly, today's court reporters have access to more advanced equipment than ever. At Talty Court Reporters, we are proud to utilize the latest technology to deliver the very best results in your legal case. Turn to us for top-quality court reporting, video and audio conferencing, remote depositions, transcribing services, and much more. For additional information about our services or to request a cost estimate, please contact us today.
Whenever and Wherever You Need Us, We're There.