Skip to Content
What Does a Court Reporter Do?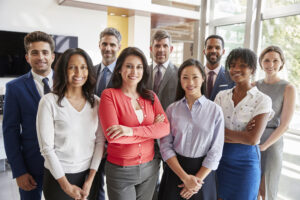 Court reporters are highly trained professionals responsible for converting the spoken word into written text in real-time. They may work in court, government, or private settings and usually use a stenography machine or computer-aided transcription software to prepare verbatim transcripts.
Why are Court Reporters So Important?
Often referred to as "guardians of the record," court reporters play a critical, impartial role in the judicial process. Here are some of the ways these professionals impact the quality of legal proceedings:
Depositions: Only with accurate, official deposition transcripts can attorneys successfully prepare for a trial.
Appeals: Litigants may choose to exercise their right to appeal, a process that requires transcripts to prove what transpired during the case.
Courtroom participation: Immediate voice-to-text transcription is possible using the latest court reporting technology. Real-time captions of the words being spoken aloud permit those who are deaf and hard-of-hearing to fully participate in the judicial process.
Typical Duties of a Court Reporter
Here are the types of duties a court reporter performs when working in a courtroom setting:
Write out verbatim records of depositions, administrative hearings, trials, and other legal proceedings using a stenography machine.
Read back transcripts as requested.
Prepare official transcripts in standardized formats following the proceedings.
Review and certify the accuracy of printed transcripts.
File transcripts with the court clerk.
Provide administrative, clerical, and court management support, as required.
Coordinate with the court clerk to schedule meetings, trials, and other proceedings.
What Characteristics Make a Good Court Reporter?
To succeed in this career path, a court reporter must:
Have proficient knowledge of legal jargon and other related terminology.
Have advanced spelling, punctuation, vocabulary, and grammar skills.
Be able to operate a stenography machine at 200 words per minute.
Feel comfortable concentrating for long periods.
Be capable of following oral and written directions and working independently.
Other Career Paths for Court Reporters
While court reporters often work in legal settings, other industries can also benefit from having the spoken word transcribed in real-time. Here are some of the career paths that allow court reporters to put their skills to use:
Closed captioning involves creating the text on a screen that conveys the spoken words and other audio portions of a television program.
Simultaneous captioning involves creating closed captions in real-time for live broadcasts of the news, sporting events, weather emergencies, and more.
Communications Access Real-Time Reporting (CART) involves captioning dialogue in live settings for deaf, hard-of-hearing, and non-English speakers.
Webcasting involves real-time captioning for Internet-based events, such as training seminars, product introductions, corporate sales meetings, and press conferences.
At Talty Court Reporters, we utilize the latest technology to deliver the very best results in your legal case. Turn to us for top-quality court reporting, video and audio conferencing, remote depositions, transcribing services, and much more. For additional information about our services or to request a cost estimate, please contact us today.
Whenever and Wherever You Need Us, We're There.