Skip to Content
Benefits of Renting Conference Rooms from Talty Court Reporters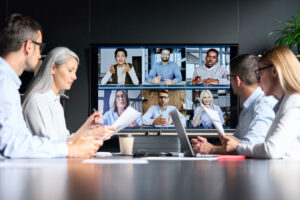 Finding the ideal space to conduct important legal proceedings can be challenging. For example, depositions require the utmost confidentiality and the right environment to ensure accuracy and clarity. With numerous spaces designed specifically for such needs, Talty Court Reporters is the premier solution for renting a conference room in San Jose, CA.
Understanding the Need for Temporary Meeting Rooms
For attorneys, paralegals, and legal secretaries, finding the right setting for a high-stakes deposition or significant client pitch is crucial. After all, the environment can heavily influence the outcome. Here's what temporary conference rooms offer:
Diverse functionality: Rentable meeting spaces cater to various requirements, from depositions and litigation preparation to hosting networking events and employee training seminars.
Location options: It's often more convenient for legal professionals to rent a space close to the trial location rather than work out of their law office. The rental cost pays for itself by decreasing the commute time between the courtroom and the deposition location or a key witness's home.
Cost-effectiveness: Not all law firms have access to large meeting spaces in their primary office. Renting a room is often more economical than constructing and maintaining a vast, seldom-used space onsite.
Enhanced security: In high-profile cases, maintaining privacy is essential. Renting a professional conference room keeps the location discreet, reducing unwanted exposure. Plus, the rooms themselves are often designed with soundproof features to keep confidential information under wraps.
Facilities for larger gatherings: Some legal proceedings require several participants. A rented conference room can easily accommodate large groups without making the space feel cramped.
Why Talty Court Reporters is Your Ideal Choice for Renting Conference Rooms in San Jose
At Talty Court Reporters, we understand the requirements of legal professionals. Our conference rooms in San Jose are designed specifically for legal depositions and other related services, offering a range of benefits, such as:
Privacy: A deposition is no ordinary meeting. It requires an environment where participants can speak freely and honestly. Talty Court Reporters ensures that with our secure, comfortable conference rooms.
Remote depositions made easy: With the rise of technology, remote depositions have become quite common. We offer both the space and the tech support to ensure smooth video conferencing free from distractions.
Affordability: Our competitive rates ensure access to top-notch facilities without straining your budget.
Numerous locations: While San Jose is our home base, our reach extends well beyond this. We have state-of-the-art conference rooms across California and in several major US cities. For your convenience, every rental comes with high-speed Wi-Fi, complimentary parking, catering options, and a full-service refreshment bar.
In addition to our conference room rental options, we utilize the latest technology to deliver the very best results in your legal case. Turn to us for top-quality court reporting and transcribing services, video and audio conferencing, remote depositions, and much more. For additional information about our services or to request a cost estimate, please contact us today.
Whenever and Wherever You Need Us, We're There.