Skip to Content
How Using a Notary Service Can Make Your Job Easier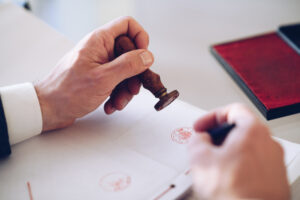 A notary public is a commissioned ministerial official appointed by the state government to serve as an impartial witness to the signing of important, sometimes life-changing, documents. A notary is duty-bound to deter fraud and identity theft in these situations by affirming the signer's identity, assessing the signer's awareness of the document's contents, and determining if the signer could be under duress or intimidation.
If you own a legal firm or other corporation in California, it's essential to have a trustworthy, time-efficient notary service at the ready whenever you need it. Once you understand how a notary service can make your job easier, you won't hesitate to put one on speed dial.
What Documents Require Notarization?
There are countless situations that demand a notarized signature. Only a notary can perform this service. Consider these examples:
Legal documents—including affidavits, wills, living wills, and powers of attorney—almost always require a notarization.
Mortgage lenders usually ask for property deeds, subordination agreements, affidavits of owner occupancy, and other real estate documents to be notarized.
Prenuptial agreements don't always require notarized signatures except in cases of real estate transfers and similar situations. Still, it never hurts to get a notarization in case the agreement is challenged in court.
It's advantageous to have contracts and agreements of all kinds notarized. Doing so makes the document self-authenticating, meaning the signers don't need to testify in court to verify the authenticity of their signatures.
How to Find a Notary in San Jose
California is one of only a handful of states that require notaries to be certified. This means they must complete the minimum required education and pay a fee to earn the title of Notary Public. As such, attorneys in California are not automatically considered notaries the way they are in some other states. This means your legal firm must decide the most convenient way to access a notary when you need one.
One option is to find a notary at a public location, such as a bank, post office, real estate firm, or government agency. Another is to appoint a paralegal or other office worker to complete the certification necessary to become a notary.
The final and most convenient option is to team up with a notary service in San Jose. You can save time, money, and hassle by having a dedicated provider handle all your notarization needs.
Do You Need a Notary?
At Talty Court Reporters, we understand how much time efficiency affects your business's profitability. That's why we'll gladly send a notary public out to meet you if you can't make it to our office in San Jose. This commitment to excellent customer service has earned us a stellar reputation for exceeding client expectations.
Turn to us for top-quality notary services, video and audio conferencing, remote depositions, court reporting, and much more to ensure the very best results in your legal case. For additional information about our services or to request a cost estimate, please contact us today.
Whenever and Wherever You Need Us, We're There.