Skip to Content
How to Use Microsoft Teams and Zoom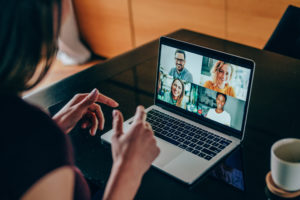 Video conferencing has grown in popularity as more businesses shift to remote offices. Two of the most widely used tools are Microsoft Teams and Zoom. If you're new to video conferencing, use this guide to help you get started.
Microsoft Teams
This tool is a chat-based workplace in Office 365. It allows internal teams to work together in Outlook, SharePoint, OneDrive, and OneNote—all in one window to maximize collaboration. Within this centralized hub, team members can schedule, host, and join video calls.
If you have an Office 365 account, simply download the desktop app, access Teams through your browser, or download the mobile app to get started. Before you can host your first conference call, you must create a team. Name the Team, create a description, and begin adding members.
The fastest way to start an impromptu video call is to click "Chat" in the menu on the left-hand side. Then, select the name of the person you wish your call, followed by the video icon or phone icon in the upper right-hand corner of the chat screen.
You can also schedule a group video call in advance. Go to Outlook and click "Appointment" from the "New Items" dropdown menu. Then, click the "Teams Meeting" icon in the top ribbon. This automatically adds a link to the appointment you're about to send out to your Team. Once you hit "Send," the appointment will automatically appear in the attendees' calendars.
Note that you can send appointments to attendees even if they don't have Microsoft Teams—they simply need an email address and internet access to RSVP and join the chat when the time comes.
Zoom
This video conferencing app is free to use with limitations, or you can unlock all the features with a paid account. Simply download the desktop app, access Zoom through your browser, or download the mobile app to get started. Here's a brief look at how to schedule, host, invite, or join meetings:
To schedule a call, go to the Meetings tab and click the "+" icon.
To host a meeting, click on "Host a Meeting," and choose "With Video Off," "With Video On," or "Screen Share Only." Once you confirm that your audio is working, the meeting will start.
To invite others to a Zoom call, click on "Participants," followed by "Invite." You can send the automatically generated meeting ID via email, or you can "Copy Invite Link" to share with others.
To join a meeting, either enter the meeting ID in the app (or at us/join), or click on the invite link. If you haven't set up Zoom yet, you'll need to do that before you can join the call.
At Talty Court Reporters, we utilize the latest technology to deliver the very best results for your company. Turn to us for top-quality transcribing services, video and audio conferencing, remote depositions, and much more. For additional information about our services, or to request a cost estimate, please contact us today.
""
Whenever and Wherever You Need Us, We're There.