Skip to Content
Which Method of Court Reporting is Right for Your Needs?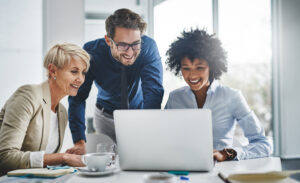 Court reporting is an essential aspect of any legal proceeding. It ensures the accurate documentation and transcription of court proceedings, testimonies, and depositions. However, different circumstances require different types of court reporting. To choose the reporting method best suited for your needs, it's important to understand the specifics of each one. Let's explore six primary types of court reporters.
Scopists
Scopists play a vital but often overlooked role in the court reporting process. These individuals meticulously review and edit transcriptions for accuracy, punctuation, formatting, and clarity. Scopists are highly trained in stenography and work closely with court reporters to produce clean and accurate transcripts. They often work remotely and can be invaluable for legal professionals looking to expedite transcription turnaround times without compromising quality.
Official Court Reporters
Official court reporters are usually appointed by the court and work exclusively in courtrooms. They are responsible for documenting all spoken words during a trial or hearing. The transcripts they prepare serve as the official record of the proceeding. Official court reporters are often certified by state or national court reporting associations, ensuring their accuracy, speed, and knowledge of legal terminology.
Legislative Reporters
Legislative court reporters capture the dynamic nature of the legislative process. Whether at city council meetings in San Jose or on the floor of the California state legislature, these reporters provide a detailed record of debates, hearings, and committee meetings. They also prepare transcripts for later public access, promoting government transparency.
Hearing Reporters
Hearing reporters specialize in reporting administrative hearings and tribunals. They document the proceedings of boards, commissions, or administrative agencies. These reports are essential for ensuring compliance with regulations, verifying decisions, and preserving individuals' rights in administrative matters.
Real-Time Reporters
Real-time reporting is a revolutionary, technology-based court reporting method. Reporters use specialized stenotype machines connected to computers that translate their shorthand notes into English in real time. This method is ideal for legal proceedings where immediate transcription is necessary, such as when live streaming depositions or providing communication access for those who are deaf or hard of hearing.
Freelancers/Firms
Freelance court reporters and court reporting firms offer a flexible solution for various legal proceedings. These reporters can work in numerous settings, from depositions to arbitrations, and are often called upon when specific expertise is required. Freelancers or firms can adjust their services to fit your unique legal requirements, making them an excellent choice for complex or specialized cases.
Choosing the right court reporting method for your needs is crucial to ensure the expected outcome. By understanding the strengths and applications of each type of court reporter, you can make an informed decision that will support your legal team's efficiency and effectiveness.
At Talty Court Reporters, we utilize the latest technology to deliver the very best results in your legal case. Turn to us for top-quality court reporting and transcribing services, video and audio conferencing, remote depositions, and much more. For additional information about our services or to request a cost estimate, please contact us today.
Whenever and Wherever You Need Us, We're There.