Skip to Content
Why Should I Trust Talty Court Reporters with My Information?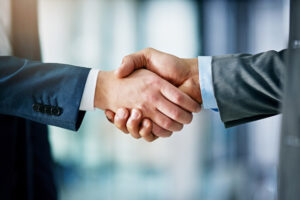 As an attorney in San Jose, you need access to trustworthy court reporting services. Consider partnering with Talty Court Reporters! When California law firms begin working with us, they never leave. Here are the many reasons you can trust us with your information.
We have a legacy of excellence: Talty Court Reporters was founded in 1964 by William Talty. It didn't take long for our company to gain a reputation for integrity, friendliness, and commitment to quality. Mr. Talty passed away in 1993, but his name continues to be recognized among San Jose attorneys and judges as a trustworthy source for court reporting services.
We are independently owned and operated: As the largest independently owned and most experienced court reporting agency in the San Jose area, we recognize the value and importance of what we do. Our current owner, Josie Amant, has been with the company since 1976 and took ownership in 2002. Along with the rest of the management team, she is highly qualified to meet the highest standards in the court reporting industry.
We provide full litigation support: Whether you're looking for experienced court reporters, videographers, or interpreters, we can handle all your legal documentation needs.
We offer stringent quality control: Our commitment to quality begins by only hiring seasoned, well-educated court reporters. Then, we proofread every deposition we transcribe to ensure accuracy before delivering it to you. Excellent services on our end allow you to better serve your clients.
We utilize advanced technology: Remote depositions are increasingly common these days. Working with Talty Court Reporters grants you access to the teleconferencing technology necessary to conduct remote depositions without a hitch. If you're not sure what communication and recording systems you need, we will gladly explain your options and help you make the right choice.
We provide secure virtual case management: Replace your paper documents and in-house databases with 24/7 virtual case management services from Talty Court Reporters. Our virtual office is fully encrypted, ensuring your sensitive materials are safe and secure from prying eyes. At the same time, you can download and share transcriptions and videos with anyone you authorize to view information about your case.
We offer competitive pricing: Outsourcing to Talty Court Reporters can save you money compared to managing everything in-house. Plus, our rates for comprehensive litigation support are highly competitive.
Turn to us for top-quality court reporting and transcribing services, video and audio conferencing, and remote depositions in San Jose, CA. For additional information about our services, or to request a cost estimate, please contact us today.
Whenever and Wherever You Need Us, We're There.