Skip to Content
How Transcriptions Can Help Your Legal Case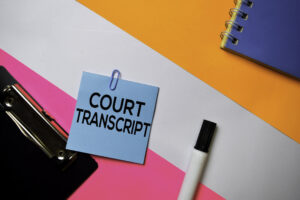 A transcription is a precise written record of a live event or audio/video recording created by a professional transcriptionist who follows legal guidelines designed to ensure accuracy and integrity. This document may prove extremely helpful in your legal case, from pre-trial planning to filing an appeal. Whether you're representing a criminal defendant, personal injury plaintiff, or another client, here are six ways transcriptions can help you win your case.
Review depositions quickly: The witness testimonies given during depositions may prove invaluable when preparing for trial. Rather than rewatching hours of deposition footage, you can scan transcripts for the information you need. Take notes and highlight phrases directly on the document so you can easily recite direct quotes to the court without misremembering or misinterpreting what the witness said.
Help with cross-examination: In cases where the offender tries to escape responsibility, cross-examinations are extremely helpful for uncovering the truth. With a complete written record of witness statements to draw from, you can decide what questions you want the jury to hear and which ones you would rather let the opposing counsel ask.
Remove emotion from the situation: Sometimes, it's helpful to watch a video deposition to convey the witness's emotions. Other times, you want to present the facts alone without playing off the jury's sympathy. The written word tells it like it is without emotional responses swaying the jury's opinion in favor of the opposition.
Capture witness statements: If your case relies heavily on the testimony of a crucial witness, it's vital to record their account before going to trial. This way, you can present sworn testimony to the judge and jury if the witness is unable or unwilling to appear in person.
Demonstrate police protocol: The opposition may attempt to have their client's case dismissed based on protocol errors. Recording and transcribing police interactions and interviews, including the offender being notified of their right to legal counsel, demonstrates that no breach of protocol occurred.
Plan your appeal: Even with substantial preparation, not every court case is decided in your client's favor. With a verbatim transcript of everything that took place in the courtroom, you may have the evidence needed to appeal. For instance, if your client was found guilty on a technicality, you can reread the transcript to determine what went wrong. In cases like this, procedural error may be the basis of your client's appeal. Citing the disregard for due process in the transcript is often the quickest way to garner the attention of an appellate court.
Considering all the ways accurate transcripts can help your legal case, you shouldn't leave its production to just anyone. At Talty Court Reporters, we utilize the latest technology to deliver the very best results in your legal case. Turn to us for top-quality court reporting and transcribing services, video and audio conferencing, and remote depositions in San Jose, CA. For additional information about our services or to request a cost estimate, please contact us today.
Whenever and Wherever You Need Us, We're There.