Skip to Content
The Benefits of Using Video Conferencing in Your Deposition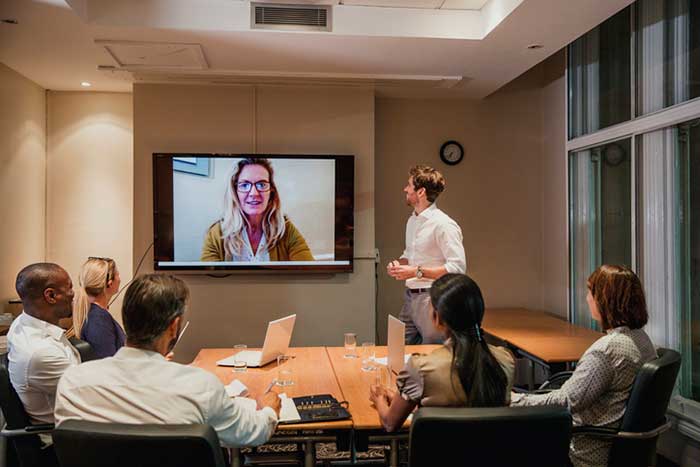 A traditional deposition is a typed transcription of a witness's testimony. A court reporter transcribes the words verbatim in shorthand on a stenography machine, which translates the words into longhand. This becomes a certified written record for the court.
Did you know it's possible to enhance a deposition with video conferencing? Here are the benefits of filming your upcoming depositions.
Reduce Travel Time and Expense with Remote Depositions
Teleconferencing equipment makes it possible to collect testimonies from witnesses located all over the world. This allows all parties involved to see and hear one another for a fraction of the cost and hassle required to travel to each location and host the deposition face-to-face, especially if there are multiple witnesses.
Review the Recording Again and Again
In the case of teleconferencing, the video feed is streamed live between participants. It is also recorded for later reference, and digital copies can even be made. This allows multiple people to watch the deposition as many times as they want.
Strengthen Your Legal Claim
While a paper transcript conveys a witness's literal words, only a video recording has the power to demonstrate facial expressions, involuntary reactions, emotional responses, and irony or sarcasm. This meaningful information sets the scene and context of a case that is lost in written text. A powerful video may be enough to reduce or eliminate charges, influence a jury, or convince a judge to dismiss the case.
The best way to strengthen your claim is to hire a legal videographer. This ensures a high-definition recording with crystal-clear audio and video synced with the court reporter's transcript.
Record with Minimal Equipment
Filming a deposition is not a complicated task. All you need is a quality camera and tripod, microphones, and lighting. For teleconferencing, you also need a secure and reliable internet connection. A legal videographer working in a conference facility provides everything you need, so you don't need to invest in the equipment yourself.
View the Deposition on Multiple Devices
Modern technology allows video conferences to be viewed on numerous devices, including computers, laptops, tablets, and cell phones. This way, any involved party can clarify a statement the witness made by pulling up the video on whatever device is most convenient.
Ensure Privacy and Security
The digital nature of modern films could make some attorneys fear the privacy and security of the witness's testimony, especially when streamed over the web. Fortunately, today's video conferencing offers the utmost privacy thanks to secure internet connections, file encryption, and private chat options. These measures ensure that only approved parties can view the recorded deposition.
At Talty Court Reporters, we always recommend filming depositions because of their ability to save attorneys time and money and preserve all the evidence in a case. Our legal video services in San Jose are just what you need to make your upcoming depositions a success. We even offer conference facilities where you can professionally record your footage. Discover all the benefits of working with Talty—schedule your deposition today.
Whenever and Wherever You Need Us, We're There.